Seeking Angels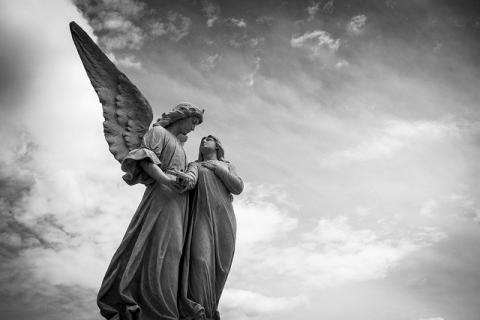 I led our last mid-week Bible study on the theme of angels: what they are, their numbers, their appearance, their purpose. Much of what was said was speculative, as the Bible is sparing in its descriptions. We considered the three 'species' of angels about which the scriptures are explicit- the cherubim, seraphim and the strange 'living creatures' of Ezekiel's and John's visions. We also thought about other references to angelic beings, including the watchers, thrones, dominions and powers spoken of elsewhere. There is clearly a whole civilisation, or civilisations of angelic creatures out there, some fallen, some uncorrupted. The scriptures' lack of clarity and detail are partly because of our inbuilt inclination to idolatry. If the apostle John came close to falling foul of an angel's beauty, how much more we? Once occupying our new, resurrection bodies, lacking any sinful nature, we shall be better equipped to appreciate angelic splendour without the temptation to venerate. Until then, the few of us who see angels generally do so unawares. We also talked about the possibility of there being guardian angels, evidence for which exists but is slim.
That very night, I returned and began doing some work on the computer. A strange advert appeared, presumably on account of my previous searches which the engine had tracked and attempted to marry to some online enterprise. "Who is your Guardian Angel?", the advert winked. I clicked the link, curious.
What secret does he want to reveal to you about your future?
Your Guardian Angel has already worked on your behalf in the utmost secrecy. Today, I am giving you the unique opportunity to discover his Name and know who he is. It is no coincidence that I am writing you today. Your Angel contacted me personally: he has a message to transmit to you as soon as possible. I can already tell you that these incredible revelations will change your life. Thanks to my powers, I am permanently in touch with the Celestial World. Therefore, I can unveil the Name of your Guardian Angel and the Angelical Message he wants you to receive. You will be able to take advantage of it right away!
Golly-gosh. My guardian angel has contacted this chap, who calls himself Padre, with some message for me. If only he had contacted me directly. Padre's website requested my details, and says it is all free. Later on, he explains that-
You benefit from my sacred guarantee. Thus, you do not run any risks. Should the Help received not bring you total satisfaction, you could ask for it to be refunded; this appears in my general terms of use and in my sacred commitment to you.
-indicating there is a charge at some point.
Unfortunately for 'Padre' and his bank balance, I do not believe any angels have any message for me. God Himself speaks to me through His word, and that is enough. Should God ever see fit to deliver some message via Gabriel, I think he will come directly, as is his custom. Even if some Shining One did appear, I would seek to ascertain his credentials, for Satan himself transforms himself into an angel of light (2 Cor 11:14). So don't bother seeking angels. Those who seek them find only liars not worth hearing; those angels who tell the truth cannot be found anyway. Neither believe every charlatan whose algorithms track your searches and offer a bit of paranormal assistance, for a small fee, of course.
Christ is the image of the invisible God, the firstborn over all creation. For by Him all things were created that are in heaven and that are on earth, visible and invisible, whether thrones or dominions or [e]principalities or powers. All things were created through Him and for Him. And He is before all things, and in Him all things consist. Col 1:15-16
Image by Karina Cubillo from Pixabay 
I looked at Padre's small print and disclaimers. For any of you tempted to look it up and submit your info, read this:
THE SERVICES AND ADVICE OFFERED ON THE guardian-****.com WEBSITE AS WELL AS IN THE ASSOCIATED EMAILS AND ELECTRONIC SERVICES ARE EXCLUSIVELY INTENDED FOR ENTERTAINMENT PURPOSES. FOR COMMUNICATION PURPOSES, SOME TESTIMONIALS MAY BE SIMPLE INSPIRATIONS INTENDED TO ILLUSTRATE THE MESSAGE AND MAKE IT MORE AMUSING.