Shall I Compare Thee to a Summer's Sniffle?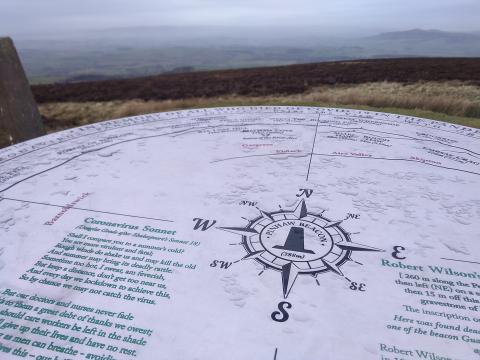 I walked up Pinhaw hill over Earby last weekend. It is a fair climb and the trig point rewards its visitors with good views even on a cloudy day. I had wanted to get away from all the talk of lockdowns and pandemics; there is nothing like a long walk to clear one's head. Next to said trig point was a new erection, giving the names of surrounding hills and landmarks. There was also upon it a poem about, what else? Covid 19, the quality of which you may judge for yourself:
Coronavirus Sonnet
(Douglas Goode after Shakespeare's Sonnet 18)
Shall I compare you to a summer's cold?
You are more virulent and fatal;
Rough winds do shake us and may kill the old
And summer may bring its deadly rattle.
 Sometime too hot, I sweat, am feverish,
 But keep a distance, don't get too near us,
And every day we lockdown to achieve this,
 So by chance we may not catch the virus.
But our doctors and nurses never fade
 It's to them a great debt of thanks we owest;
 Nor should care workers be left in the shade
 They all give up their lives and have no rest.
So long as men can breathe - avoiding death,
 So long lives this - our brilliant NHS.
I had climbed the hill to get away from all the fuss and masks, not to be reminded of it all by Mr Goode. Notwithstanding the deaths of those poor folk with 'underlying' health conditions, this pestilence has proved wonderfully tame, and not just because of 'our brilliant NHS'. Something tells me that when the fourth horseman of the apocalypse appears (of Revelation 6) and a quarter of the global population perishes, the times of dear old Corona will be adjudged one of our healthier periods of history.
And I looked, and behold, a pale horse! And its rider's name was Death, and Hades followed him. And they were given authority over a fourth of the earth, to kill with sword and with famine and with pestilence and by wild beasts of the earth. (6:8, ESV)