Shall not Overflow you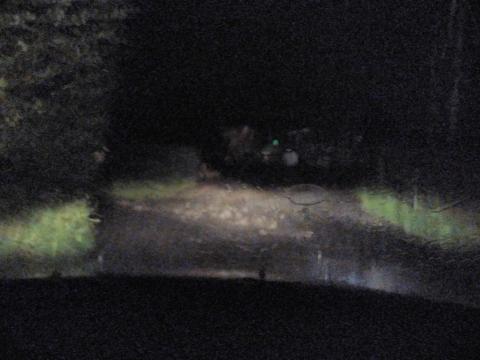 From last week's Bible Study I thought I might not safely return. The rain was so heavy that my 10 minute journey home took 25. Attempting Stocks Lane, which resembled driving down a small river, 6-foot-high jets of water flew up either side of me as I drove, quite slowly. I was urged to turn around and go back by a driver coming the other way; the road, he said, had completely flooded and was over 2 feet under.
Turning around, I attempted the route through Bracewell. Though a wider road, I knew it had a big dip wherein flood waters gathered. As I approached this dark, dirty mass, I hoped and prayed my engine wouldn't flood. Going too quickly would have seen the water enter the front of the car and shorting the electrics; if my foot came off the gas, the exhaust pipe would have created a vacuum, sucking in the water, wrecking the engine. As I drove through, some unpleasant noise was made and a slight shuddering was felt, but I made it to the other side. The brakes were too wet to work and I had to gently apply them to dry them out.
Ok, so I'm no brave missionary straddling some great African river in a Landover, delivering aid and Bibles to stranded villagers. But replacing the car is currently beyond my budget and besides, it had been a 15-hour day and I really wanted my bed. I thought of the following verse during that journey:
When you pass through the waters, I will be with you; And through the rivers, they shall not overflow you.
Isaiah 43:2