From the Shelf 3: The Church Lending Library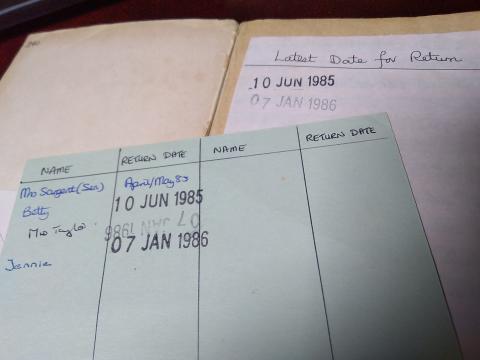 Yesterday, I came across Rita Snowden's The Sun is High. The words on the backcover-
Rita Snowden is an adventure-loving person, finding beauty in where many are unaware of it. She started life as a country child in New Zealand…happy days at the harvest field led soon to school, years at business, at college in a pioneer job, on through a personal crisis to a full life as a writer…
-don't excite me enough to want to read it. More interesting is the inside frontcover, which, written in black biro, are the words Latest Date for Return. 
Do you remember when churches used to have a few dedicated bookshelves on which were kept the 'church library'? This was a selection of Christian books and tapes which people in the fellowship could borrow, then return for others to do likewise. I suspect that the remains of one at Martin Top are still to be found in the upper room.
Back to the book. People who were more impressed by Miss Snowden's back cover in 1985-6 included Mrs Sargent the youth leader, Betty (person unknown), Mrs Taylor the pastor's wife, Jennie Parker (one of the most Christlike people I can recall) and my own grandmother, who curiously never bothered to enter her details. Perhaps her expectations of Snowden's work were so high she could never anticipate parting with it, refusing to create a paper trail that would lead to its recovery.
Church libraries are generally a thing of the past, though I note Owlerton Evangelical, at which I preach, has one that is rather extensive and theological. One problem accounting for their decline was that the donated books needed constant vetting (or worse- they weren't vetted at all). The dreary voices of drab liberalism and the clamouring yells of charismania each had to be discreetly removed and binned. Furthermore, it took an average church member some degree of generosity to part with helpful volumes. All too often, the books contributed were the most boring that he or she had; any book worth keeping seldom made it to the shelf. We might also add that the relative cheapness of today's books means we prefer to buy ours new. Snowden's only cost 80 pence back in 1974 when it was published (notice it was 11 years old when it was first borrowed). Now a few clicks and a CVC code will have virgin books on our doorstep within 48 hours.
There's a fourth possibility. Might the Christian community be reading less? See Jack Crow's thoughts from earlier on. Book sales are actually booming, but how many are read? If someone were to ask "What good books are you reading?", would you have to fob them off with "Oh, just the Bible", or some secular novel? I don't particularly want to see a return of the tatty books of questionable value, beshelved and catching dust in our chapels' corners, but I would have a Christian people who are better read than the spiritually dead among whom they live.
Wisdom is the principal thing; therefore get wisdom: and with all your getting get understanding.
Proverbs 4:7