Shining
The tide was coming in; the gannets were fishing quite close to the shore. Behind them dark clouds were gathering and the sea itself was turning a sullen grey. Yet the sunlight was still reflecting from the birds' plumage, flashing all the whiter against the darkness.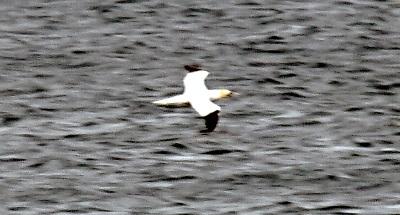 The Apostle Paul speaks to us as light-bearers in a hostile world:
… work out your own salvation with fear and trembling; for it is God who works in you both to will and to do for His good pleasure. Do all things without grumbling and disputing, that you may become blameless and harmless, children of God without fault in the midst of a crooked and perverse generation, among whom you shine as lights in the world, holding forth the word of life… (Philippians 2:12-16)
Not that the light is anything for which we can take credit, 'for it is the God who commanded light to shine out of darkness who has shone in our hearts to give the light of the knowledge of the glory of God in the face of Jesus Christ.' (2 Corinthians 4:6)  And how easily our light grows dim!
Robert Murray M'Cheyne writes:
Shine with Christ's light. The moon rises and shines, but not with her own light, she gathers all from the sun; so do you. Shine in such a way that Christ shall have all the glory. They shine brightest who feel most their own darkness, and are most clothed in Christ's brightness. Oh! wherever you go, make it manifest that your light and peace all come from Him; that it is by looking unto Jesus that you shine; that your holiness all comes from union to Him.
Shine in your closet in secret prayer. Ah! let your face shine in secret communion with God.
Shine in your family; that without a word you may gain their souls.
Shine in your town; that, when you mingle with the crowd, it may be as if an angel shook his wings.
Shine in the world; embrace every shore with the beams of living love.
Let your light so shine before men, that they may see your good works and glorify your Father in heaven. (Matthew 5:16)
As we used to sing when we were children:
Jesus bids us shine with a clear pure light,
Like a little candle burning in the night;
In this world of darkness, so we must shine -
You in your small corner, and I in mine.
Jesus bids us shine, first of all for Him;
Well He sees and knows it, if our light grows dim;
He looks down from heaven, to see us shine -
You in your small corner, and I in mine.
Jesus bids us shine, then; for, all around
Many kinds of darkness in this world abound:
Sin and want and sorrow; so we must shine -
You in your small corner, and I in mine.
Emily H Miller