Siege of Wythenshawe Hall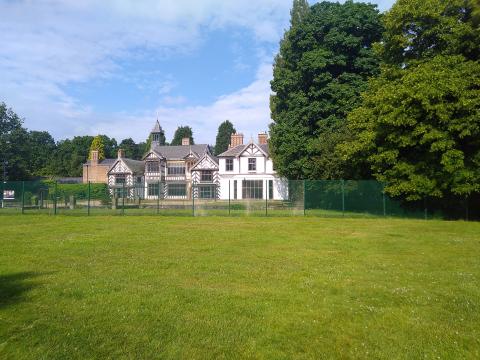 In the summer, I stayed a couple of nights at Wythenshawe in Cheshire/Greater Manchester. It was not a place to which I would have previously been attracted, but the room rates were good and it seemed a good base from which to explore north Cheshire. Imagine my delight when, wandering across a local park in search of breakfast, I came across the Tudor mansion that is Wythenshawe Hall. I soon learned it was the site of a civil war siege, the house being held by Cavaliers, the besiegers from Manchester being Parliamentarians. The defenders acquitted themselves well, killing Captain Adams, their foes' leader, but they were no match for the two cannons brought down to blast them into submission, under the direction of Colonel Duckinfield. After the capitulation, the house was confiscated, sold back to its original owner for 700 quid and enjoyed a programme of extensive repair the following century.
The second delight of my Wythenshawe stay was beholding an imposing statue of Oliver Cromwell standing right opposite the house. The Protector was not present at this local skirmish, but was certainly friends with the Colonel who concluded it. That war is long over, the hall now a peaceful museum (when the local council deigns to open it), Cromwell's memory a shruggable fact, now just a brief section of a Year 8 history curriculum. In its day, the siege and battle were of immediate importance; now they are but a mere footnote on websites, an episode worthy of a few inches of public information board.
1600 years before Wythenshaw's conflict, Christ Jesus fought and defeated the curse, Satan and sin:
He triumphed over them by the Cross: Having disarmed principalities and powers, He made a public spectacle of them, triumphing over them in it. (Col 2:15)
To many, this is no more interesting than some civil war skirmish, the protagonists no more than statues and effigies. Unlike Cromwell's successes, Christ's will determine your eternal destiny; though the victory be won, the resistance and battles continue.