Snow Day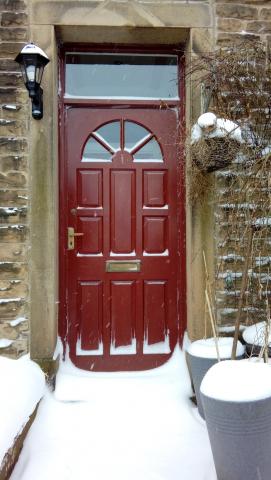 Much as I dislike the snow, I do enjoy reading the early morning email from my employer advising me not to come to work. It buys me additional time with which to prepare for Sunday and sort those jobs around the house. A few basic reflections:
I cancelled tonight's Bible Study. The godlier among us will doubtless suggest this is further evidence of the church's lukewarm temperature. I'd prefer my congregation alive and well. I also sometimes think it's better we cancelled it from the top than have sixteen people make their own decision and feeling guilty about not going.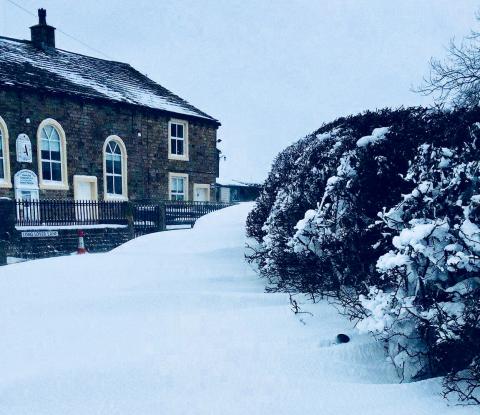 Whereas other underemployed people resort to watching Jeremy Kyle on such days, I prefer to watch the birds feed in the back garden. Inclement conditions make my food appear more appetising to even the most discerning birds, such as thrushes. I wonder if this is a picture of the chapel at Martin Top. As the spiritual winter permeates our national life and denominations, so the little chapel on the hill attracts hungry visitors who long for food.
I've had to nip into town to buy fresh nourishment; I'm bored of tinned stuff. As well as wrapping up, I donned waterproofs, snow grips and a hat with ear-muffs. The conditions might be bad, but we can mitigate their effects by our dress. Life throws all sorts of difficulties our way. The answer is not to curl up and die, but to go out- well prepared and protected. Says the apostle:
Stand therefore, having girded your waist with truth, having put on the breastplate of righteousness, and having shod your feet with the preparation of the gospel of peace;  above all, taking the shield of faith with which you will be able to quench all the fiery darts of the wicked one.  And take the helmet of salvation, and the sword of the Spirit, which is the word of God.