Spiritual Atmospheres: Glastonbury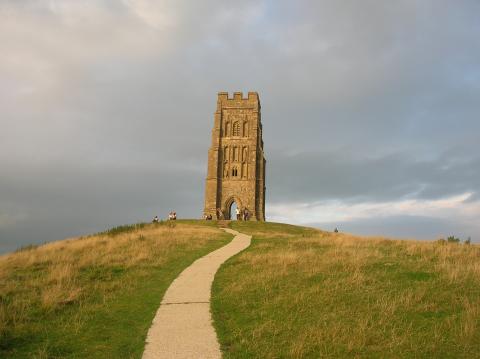 "There's a lovely atmosphere in this house; I sense a real spirit of peace. I can really feel the presence of the Lord".
So said a visitor to my home some time ago. I smiled gratefully, nodding politely, while awkwardly recalling those times when my house is anything but a tranquil oasis of peace and loveliness: when I was running late, couldn't find the house key, lost the chequebook, etc. I attributed my super-spiritual friend's keen sense of spirit to the new Glade air freshener I'd bought only the week before. On those occasions when I visit someone's home and I feel uncomfortable, I imagine I have skilfully read their body language, been perturbed by the untidiness, or arrived in my own irritable mood. 
That said, there have been times and places at which I felt spiritually drained or even oppressed. It's hard to explain, and I hope the paragraph above demonstrates I'm not given to this kind of thing. It's happened three times, and I detail one here, saving the others for future blog posts. Some years ago, I visited Glastonbury. I was never cool or rich enough to attend the music festival, but I did visit the town as a tourist. I looked about the shops, saw the ruined abbey, ascended the Tor- the steep hill overlooking the town upon which is an ancient tower. It should have been a pleasant day, for I love that kind of place with its charm and history. Instead, I was anxious to leave. I felt unwelcome and uncomfortable, unable to relax. Why was this?
Very many of the shops sold crystals, wands, tarot cards and accessories 'for the discerning witch'. Pagan and wiccan religious ceremonies were advertised on the town's noticeboards. In our vegan café, the least pagan I could find, I felt like Sergeant Howie on his visit to Summerisle. So, was this simply a hotbed of hippies holding traditional folk beliefs with which a straight-laced, Daily Telegraph-reading visitor could not empathise? Or was there something at work there which regarded my presence as disagreeably as I the entire town?
Whose minds the god of this age has blinded, who do not believe, lest the light of the gospel of the glory of Christ, who is the image of God, should shine on them. 2 Cor. 4:4