Spiritual Staple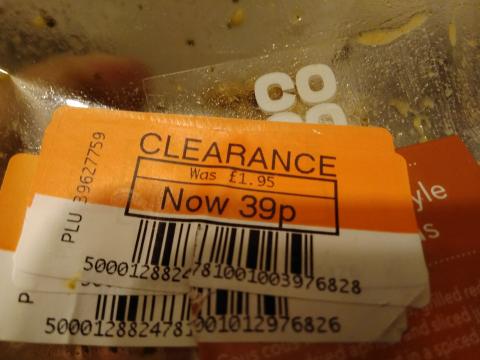 My shopping habits have changed. Rather than going for a 'big shop', driving to Sainsbury's once or twice a fortnight, I now walk to my local Co-op 2-3 times per week. I've learned that If I go after 6.30pm, some items' prices have been reduced on account of their close expiry dates. With some excitement do I attend the store, knowing I'll be walking out with the evening's meal. Furthermore, the cheaper prices certainly make the eating all the more enjoyable. Last fortnight, I ate wheatberries, green lentils, red quinoa and edamame beans. Another night I ate ham with 'Moroccan-style' cous-cous and beetroot salad. The day after, I enjoyed a falafel and houmous wrap in a sweet chilli sauce. Consuming such foods almost persuades me to flick through a copy of the Guardian newspaper and take a wine-tasting tour of the Loire Valley. These products and ingredients would not normally darken my pantry door. Whatever the Co-op over-orders or the good burghers of Barnoldswick deign not to buy, I readily scoff.
Perhaps as a reaction to all of this, I have an occasional mental aversion to exotic foodstuffs. Having feasted on purple asparagus, vegetable chips, artisan bread and guacamole, I sometimes long for good, old fashioned, working-class staples. So, I've been enjoying cheese and onion sandwiches, egg and chips, beans on toast and that old favourite from university days, the glorious pot noodle. There's only so much organic, fancy-pants food I can stomach.  
A good diet requires variety. God endowed the earth with all manner of vegetables and fruits that our palates might never grow bored or weary. Sometimes, though, it's good old-fashioned fare we need rather than some pretentious foreign delicacy. Roast beef, a home-made pie or sponge & custard sometimes do us more good than some cordon bleu, gastronomic extravaganza. Similarly, in our spiritual diets, it's great to hear about biblical history, special meanings of Greek verbs, the significance of Jerusalem's gates or the apocalypse itself explained in great detail. Yet it does us much good to hear a plain gospel message. Tell me about the cross and Jesus' love for sinners, and I'll go home quite satisfied.
Tell me the story slowly,
that I may take it in,
that wonderful redemption,
God's remedy for sin.
tell me the story often,
for I forget so soon;
the early dew of morning
has passed away at noon.
-Katherine Hanley
But we preach Christ crucified, unto the Jews a stumblingblock, and unto the Greeks foolishness. 1 Cor. 1:23
Image by Gerd Altmann from Pixabay