St Oswald's, Ravenstonedale
Architecturally speaking, St Oswald's Church in Ravenstonedale is an Anglican building in which I would feel at home. Entirely dominating the room is a gigantic, three-decker pulpit, complete with sounding board. This was to demonstrate the primacy of preaching. The pulpit sits in the midst of the pews on the north wall. Although the hearers to its immediate flanks may have suffered the odd cricked neck, its point was that the word of God was among the people. The altar, or communion table as it should more properly be called, is away at the east end, with not a single pew save those in the gallery facing it. The Bible, not communion, was the primary means of grace.
One of the stained glass windows commemorates Elizabeth Gaunt, nee Fothergill, who would have once worshipped in the building which the current one replaced in 1738. She was burned in 1685 for treason at Tyburn, but it was an open secret that she was selected for so macabre a death on account of her Baptist faith. So here we have a thoroughly protestant Anglicanism. Although the Georgian Church was lacking in energy and zeal, it had little sympathy for the ritual and Romanism to which it succumbed the following century. Subsequently, someone at St Oswald's sneaked a Mary statue into the gallery, an item which the church's builders would have enthusiastically smashed to pieces.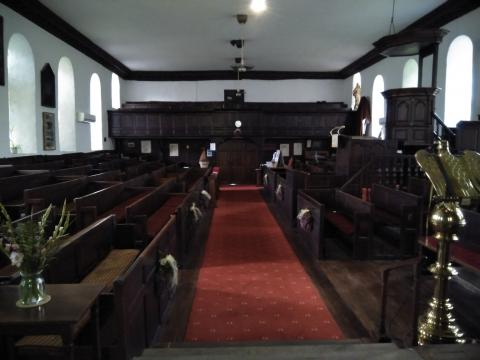 The other remarkable feature is the pews. They are collegiate style, meaning they face each other. Most churches and chapels, like our own, have the seating facing the front to better see the preacher or behold the communion table. Although looking at others during worship can be both distracting to them and distraction to oneself, there is a good, spiritual point here. John tells his readers in 1:4:20
If a man say, I love God, and hateth his brother, he is a liar: for he that loveth not his brother whom he hath seen, how can he love God whom he hath not seen?
By seeing my Christian brothers and sisters at church, I am weekly reminded that they are the ones to whom love and charity should be shown. I cannot see God but I can see them in whom God's Spirit dwells.