Star Magnolia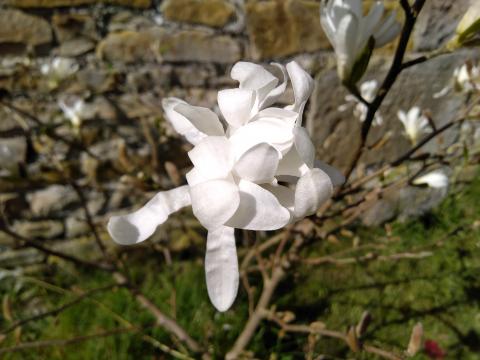 This star magnolia is growing by our chapel wall. Pretty, isn't it? One may sympathise with its choice of name: its flowers look like stars.
But they don't, do they? Stars are gigantic balls of fire, emitting their own light, attracting orbiting planets with their own gravity, heating up huge expanses of space all around them. Flowers do no such thing. And if they did, I would be rather disinclined to go planting them next to our chapel. 
Writes the apostle:
For now we see through a glass, darkly; but then face to face: now I know in part; but then shall I know even as also I am known. 1 Cor 13:12
Even with prophecy and biblical insight, our knowledge of divinity is but partial and opaque. Though we are blessed to have the scriptures, I wonder if our theological expertise is even less complete than that of an astronomer who bases his entire knowledge of the stars on our little magnolia bush. Though the Bible is entirely true and trustworthy, the vast wonders of God are above recording and beyond comprehension:
Oh, the depth of the riches both of the wisdom and knowledge of God! How unsearchable are His judgments and His ways past finding out!
Romans 11:33