Stephen Dean's Challenge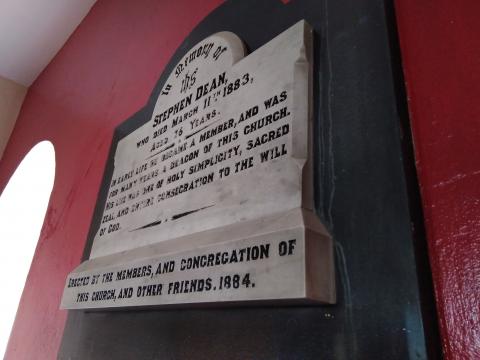 To the left of our pulpit is erected a marble plaque in memory of Stephen Dean, a deacon at our chapel who passed into glory back in 1883. I suspect it is subjected to detailed inspection during my duller sermons. It describes his life of 'holy simplicity, sacred zeal and entire consecration'. The adjectives here are important.
Simplicity itself is desirable in philosophy, but not always in a human being. To be 'simple' is to lack wisdom according to Proverbs. Yet his simplicity was holy- it set him apart for God's use. He may have been a plain man, but he knew His Saviour, and that was all that mattered.
His zeal was sacred. There are many who are zealous for socialism, or ecology, or association football. His zeal was sacred, directed to God's glory.
To consecrate something is to put it aside for God's use, to surrender it for His purposes. We talk about consecrated buildings, and every Christian, by definition, is consecrated; we now belong to Him, our doings are for His pleasure. Yet few of us can prefix our consecration with so bold a qualifier as 'entire'. I suspect this was not a word he used of himself, but his fellow believers, whom he left behind, were confident to say it of him.
Stephen Dean, though dead, yet speaketh. While the preacher drawls, the example of a former generation throws the gauntlet and offers the challenge:
I am crucified with Christ: nevertheless I live; yet not I, but Christ liveth in me: and the life which I now live in the flesh I live by the faith of the Son of God, who loved me, and gave himself for me. (Gal 2:20).
Can you say the same?