Stopper Lane Chapel & Francis Duckworth
The building photographed is now a comfortable home at Stopper Lane, the hamlet between Martin Top and Rimington. It was once the Wesleyan Methodist chapel, and a hint of its ecclesiastical origin may be seen in its symmetry and higher, rounded window arches. It is two years older than our own chapel, and presumably suited the theological taste of local Arminians, whereas Salem better catered for the Calvinist. It's a wonder to think that so small a district could support two nonconformist chapels. That they were both started within 24 months suggests a move of God in those parts. In 1817, when our chapel was under construction, the Wesleyan chapel sustained three classes (ie small groups of members who met to support each other). It closed its doors in October 1963, never having been a particularly thriving chapel except in its earliest days.
Cyril Ainsworth's A History of Methodism in the Clitheroe Circuits (Vol 1, 1992.) relates how a visiting preacher interrupted the hymn when it was clear the selected tune was to the wrong meter and did not fit the words. The leader of the chapel orchestra, Mr Robert Duckworth, effectively told the preacher to stick to preaching and leave the music to him. He continued with the same tune.
One of Mr Duckworth's sons was Francis Duckworth, composer of the famous Rimington hymn tune, most usually associated with Isaac Watt's Jesus shall Reign. Duckworth was raised at Stopper Lane chapel, though he spent most of his life at Colne, where he was the organist at Albert Road Methodist. He wrote a number of hymn tunes, typically given local names, such as Downham and Colne. Duckworth is buried at Gisburn Parish Church and a plaque mentions him on the Wesleyan chapel wall.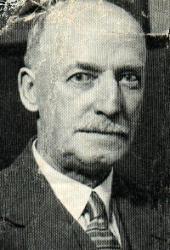 Credit: www.Hymntime.com 
His great-niece, Dorothy Taylor, for the Gisburn village website, writes:
Francis continued as organist at Albert Road for over 40 years, and in his letter of resignation he wrote: Reckoning the few years I played at Stopper Lane, I have completed 50 years service as honorary organist to the Methodist church, and as a thank-you offering for the many blessings received, I have much pleasure in enclosing a cheque for £50 (being £1 for every year served). What a moving example this is of the dedication and devotion of this kindly gentleman. Later, the church presented him with a beautiful, leather-bound volume of the Methodist hymn book.
I always lament the closure of a place of Christian worship. Our treasurer has showed me a copy of  letter from the then minster, George Curry, making plans for eleven Stopper Lane worshippers, to be received at Salem, including two Duckworths. One of the others mentioned only died last week.
Gospel light may no longer shine from Stopper Lane, though I pray it still blazes at Martin Top.