A Stump of a Church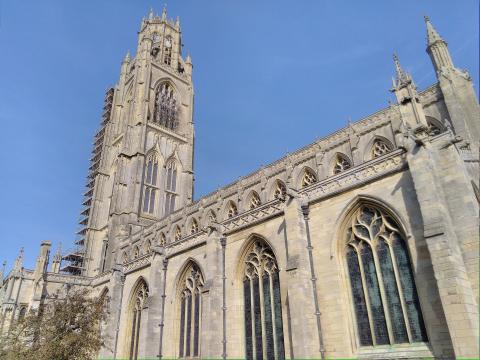 I visited Boston's Stump last week. This is the name of the Lincolnshire town's impressive parish church, St Botolph's, with its 272 feet high tower. It's like an elegant lighthouse, built 500 years ago. As Lincolnshire is famed for its flatness, this towering landmark can be seen for miles around. Stump was probably the name given it from the time it was built- the tower must have seemed like a giant tree rising from the ground.
Having looked about the building, I departed feeling melancholic. I easily forgave the renovation work going on, with its metal fencing closing off entire sections. I loved the medieval carvings on the choir stalls and misericords. The building was well lit and airy with a few tables and chairs put out for teas and cake. Yet I felt downhearted because this grand church is typical of several I've visited last month, including Lincoln Cathedral and St Mary's, Newark. Apart from a few crosses and carvings of religious figures, there was very little by way of spiritual content within. The Stump had a giftshop, staffed by a cheery young man, selling books on the battle of the Somme and framed prints of Boston. A couple of 'children's Bibles' were for sale on a shelf, but little other witness to Christ was made available. Why can't there be a tract stand? Why can't a member of the church share with visitors how sin can be forgiven and the conscience cleansed? Lincoln Cathedral offered a number of communion services during the day, but there was little or no preaching. How many hundreds of thousands of dying people pass through these gothic doorways each year, fed a diet of history and architecture, but no food for the soul?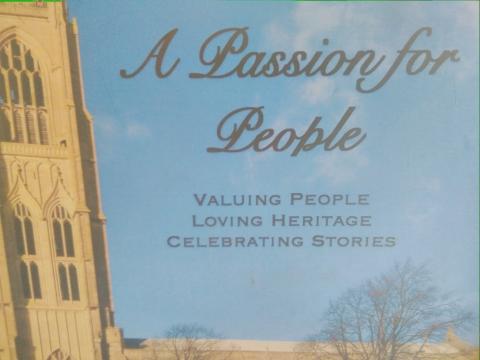 Ironically, St Botolph's was the church of Rev John Cotton, the puritan preacher who left these shores with others to found Boston, Massachusetts. There's even a 'puritan pathway' from the market square to the church, commemorating those Bible-believing men and women who emigrated across the Atlantic. Again, it's just history, another fact, another box ticked on the tourist trail.
Perhaps I'm too harsh. The Stump's website says that on 24th October, Revd Alyson Buxton, 'Team Rector in the Parish of Boston' will be giving a talk on 'What happened on the Cross?'. Sounds promising. Its staff noticeboard even names a person in charge of evangelism, so maybe he was out when I called. I dare say things happen behind the scenes of which a day visitor remains ignorant. Yet I've visited six churches in the past week, and in none of them did I read or hear about sin's forgiveness, God's grace, Christ's love and sin's great remedy. How damning an indictment of our nation's churches.   
My people are destroyed for lack of knowledge.
Because you have rejected knowledge,
I also will reject you from being priest for Me;
Because you have forgotten the law of your God,
I also will forget your children.
"The more they increased,
The more they sinned against Me;
I will change their glory into shame.
They eat up the sin of My people;
They set their heart on their iniquity.
And it shall be: like people, like priest.
So I will punish them for their ways,
And reward them for their deeds.
For they shall eat, but not have enough;
They shall commit harlotry, but not increase;
Because they have ceased obeying the Lord.
Hosea 4:6-10
John Cotton once said "Those who have found the presence and power of the spirit of Christ breathing in their ministers, either to their conversion, or edification, will be slow to change such a ministry of faith, and holiness, for the liberty of church order". Presumably, those who have never encountered that same power and spirit of Christ through their ministers will also be disinclined to change their churches 
The church in Britain is a stump in the ground rather than a thriving, ever-green tree, offering little shade from the sun and comfort to the weary.