Suffolk Churches & Two Great Truths
Last week, I drove about Suffolk. Although the gentle hills are not as dramatic as the ones we know in Lancashire and Yorkshire, the villages are uniformly prettier. When Americans think of England, they think of Suffolk: higgledy-piggledy, Tudor-style cottages with thatched roofs and front gardens ariot with colourful flowers and herbs. Red telephone boxes, village halls and homely old pubs called The Plough and The Five Bells compliment the picture postcard setting. It also goes without saying that attractive ancient churches with tall towers oversee village life. Most of them are historically and artistically interesting, but one may complete one's visit without ever stumbling across explicit spiritual truth. They are essentially mausoleums of the rich and folk museums for everyone else. On Saturday, I rejoiced at one that told two truths.
The first truth was the grim reality of death.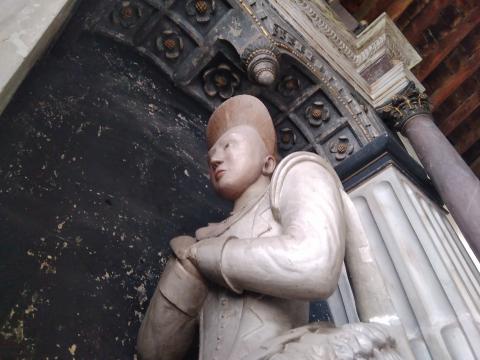 In many of these old churches, the local squirearchy saw fit to depict itself on those tabletop tombs in full relief. Knights in armour, gentlemen with rough collars, ladies in wimples with prim and chaste expressions. This is how they wished to be remembered: stylish, fashionable, powerful and confident. Yet they could do nothing to prevent later generations from etching their initials into the marble, or bashing off a nose or ear.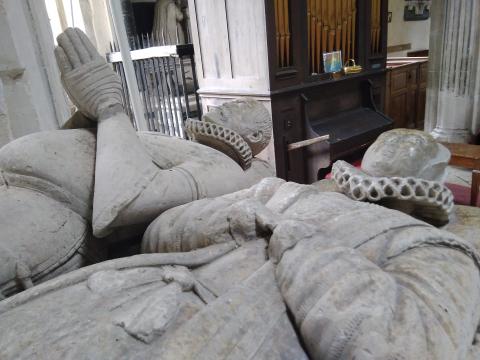 Yet in Bury St Edmunds' St Mary's Church (confusing, I know), is the tomb of John Baret who died in 1467. Depicted as a decaying corpse rather than a splendid old chap at the top of his game, the following instructional words are given:
Ho that will sadly beholde me with his ie May se hys owyn merowr (and) lerne for to die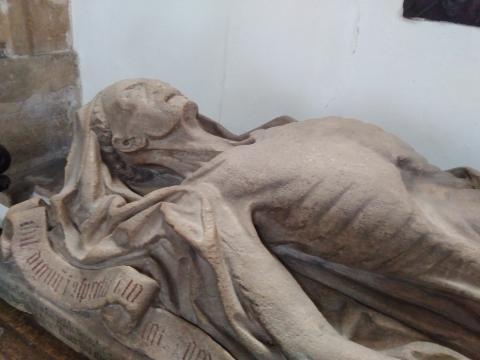 In other words, be warned: what I am, you shall become.
The second truth was the glorious reality of gospel hope. There was plenty of explanation about the buildings' age and architectural merits, but not how I might be pardoned for sin and obtain peace with God. With one exception of a single tract stand, every other church I saw last week gave no clear explanation of saving grace- all except St Mary's. On the wall were several large posters, explaining why we need to get right with God and how we do it. I was overjoyed, and commended them to one of the volunteers, who gave a nervous laugh.
So here it is: death is coming for you! Yet be not afraid- believe in the Lord Jesus, and from it, you shall be saved.