The swifts are back!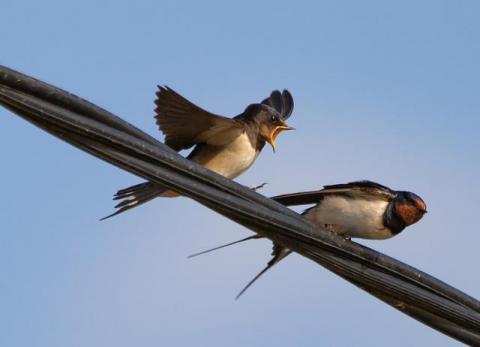 It's great to see the swifts in the sky again.  They usually arrive over the village around the end of the first week of May.  This year it was May 10th, four days later than last year, though that was not altogether surprising since there had been several days of strong northerly winds, not particularly helpful when you are flying up from Southern Africa!
I love to see them – they seem such irrepressibly joyful birds, whether they are slicing silently through the air overhead, circling ever higher in a sort of aerial ballet,   or chasing each other at crazy speeds round and round the house, skimming the shed roof and screaming as they go.  I wonder if there is a collective noun for swifts?  A 'jubilation' perhaps, or maybe an 'exhilaration'.  They won't, of course, be here for long.  All too soon it will be August and they will start on their long journey south, and the skies over the village will be empty again.
But isn't it remarkable to think that these little, sooty-brown birds find their way here each Spring?  They only weigh perhaps 50g, spend most of their lives on the wing, flying up to 500 miles a day (even when it's just a feeding trip) and only land to nest.  The young fly about six weeks after hatching and their first flight is the one which takes them to Africa!  They then spend the first three years of their lives in the air during which time they will make at least two return trips to the area where they were born.  How do they know when it's time to set out?  How do they navigate?  How do they know that in the wall of the building opposite my kitchen window there is a gap which is just the right size for a nest?
The answer, of course, is that God has created them to do all those things.  They are following their God-given instincts, living according to His design.
God has created each one of us according to His design and for His purposes too.  'Man's chief end,' says the Westminster Shorter Catechism, 'is to glorify God, and to enjoy Him for ever.'
Thomas Watson, the Puritan, describes 'glorifying God' in this way:
Appreciation: to glorify God is to have God-admiring thoughts: to esteem Him most excellent, and to search for diamonds in this rock only
Adoration: Divine worship must be such as God Himself has appointed, else it is offering strange fire... everything must be according to the pattern prescribed in His word
Affection: the heart is set upon God, as a man's heart is set upon his treasure.  This love is exuberant, not a few drops, but a stream
Subjection: we must not only bow the knee to God, give God worship, but bring presents of golden obedience
(Thomas Watson, A Body of Divinity)
May that always be our aim!
God made me for Himself, to serve Him here,
With love's pure service and in filial fear;
To show His praise, for Him to labour now;
Then see His glory where the angels bow.
All needful grace was mine through His dear Son,
Whose life and death my full salvation won;
The grace that would have strengthened me, and taught;
Grace that would crown me when my work was wrought.
And I, poor sinner, cast it all away;
Lived for the toil or pleasure of each day;
As if no Christ had shed His precious blood,
As if I owed no homage to my God.
O Holy Spirit, with Thy fire divine,
Melt into tears this thankless heart of mine;
Teach me to love what once I seemed to hate,
And live to God before it be too late.
  - H W Baker
He has shown you, O man, what is good; and what does the Lord require of you but to do justly, to love mercy, and to walk humbly with your God? Micah 6:8
Image by TheOtherKev from Pixabay