Sydney's Church Hill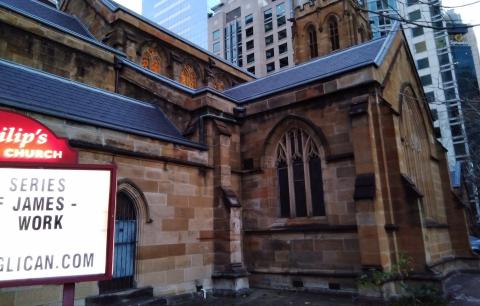 Having wandered about Sydney on a pleasant Sunday afternoon last week, I asked the Lord to provide me with an evening service. It was a 5.00pm and the Google Maps app was failing to load, so I wandered in a random direction knowing the Lord of the Harvest would provide a little nourishment for a weary traveller. Sure enough, I came across St Philip's Anglican Church, neatly set on a hill. Anglicanism in the southern hemisphere is far better than the northern dross with which we have grown accustomed*, but I was still reassured by its noticeboard which described the Bible books through which it was teaching. Sydney architecture is bold and cutting edge, yet here was a typical Anglican parish church that might have been teleported from any English village. The evening service, commencing at 6, was advertised as being 'contemporary'. Contemporary to what, it didn't say, but I expected lots of bearded millennials and trendy hipsters. Sure enough, such types appeared, taking to their pews the essential paper cups of coffee from which they could sip throughout the service. There was a mixture of ages, to be fair, and not every worshipper demanded the caffeine fix during service. The modern songs we had were biblical and appropriate, though a few in, we were urged to go and greet those sitting by us. I felt rather awkward and just flicked through the 17 pages of service booklet. Justin Moffatt, the minister, afterwards assured us that it 'was ok' not to want to get up and speak to people- he must have beheld me, and another man, keep our counsels. Before the service he had introduced himself and I liked him very much. His excusing my not being bothered to get up and be friendly was gratefully received.
The sermon was biblical, applying James' advice regarding business and our daily living. Sadly, I'd not troubled a bed for 36 hours, and I found myself nodding off several times. This was rather an embarrassment and not a reflection of the preacher's oratory or content. After the service, they offered supper on plates, but I quietly slipped out, seeking a bed, having had my spirit satisfied.
I pray God's blessing upon St Phillip's, its minister and all who attend. May the fashionable denizens of Sydney and its many tourists find more there than an interesting city in a wonderful country. Its website is here: http://www.churchhillanglican.com/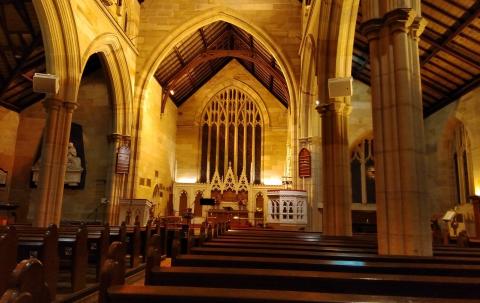 *Think I'm too hard? It's reported on Australian TV news this week that Rochester cathedral in England has turned its interior into a crazy golf course to 'attract more people'. I looked it up. It's true.