Tavitshall, Burroughs and a Rare Jewel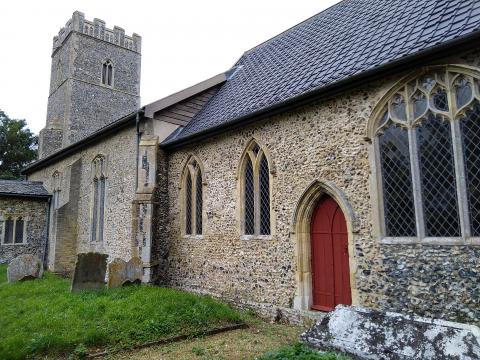 This is a remote little church. As one leaves the gate, one enters a corn field (see below). Next door is a farm, and beyond that a long lane, connected to another long lane. On its parish's 1,700 acres dwelt a mere 266 folk in 2001. It's called Tivetshall St Margaret and in the 1630s, despite its remoteness and insignificance, a great man ministered here. Later on, he would be a famous London preacher, but he started out here, in an obscure part of Norfolk. The man is Jeremiah Burroughs (or Burrows).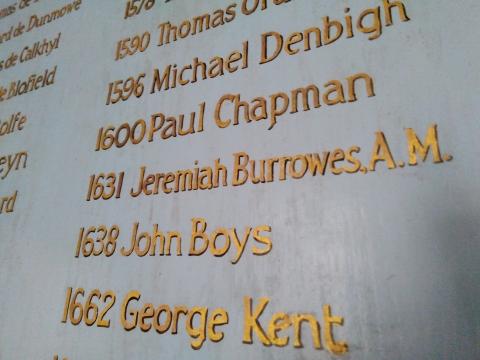 He was a great man for three reasons which I shall give below.
Firstly, he was a Congregationalist like ourselves. At the Westminster Assembly, a puritan conference which was mainly Presbyterian, he advocated the Congregational Way- that local churches should self-govern and be independent of the state or some central church government.
Secondly, he was moderate in his opinions. I do not mean he was some spineless compromiser. No, for he was expelled from St Margaret's and endured time in Dutch exile. Rather, he acknowledged that among Christians there would always be different views on peripheral matters. Over his study door, he wrote
Opinionum varietas et opinantium unitas non sunt ασυστατα, translated 'Difference of belief and unity of believers are not inconsistent'.
Some of my time as pastor is spent distinguishing between genuine difference of opinion and false teaching; much of the remaining time is persuading others to see the distinction. Burroughs lived in an especially intolerant age, so his moderation here is all the more remarkable.
Thirdly, he bequeathed to us much treasure in the form of his words. The man who ministered to a little Norfolk congregation among the crop fields, wrote The Rare Jewel of Christian Contentment. He attempts to explain how the Christian can be content whilst having very little. What we have is from God's love, it is sanctified, and it is free. What little we have are gifts from God and should be treasured. What little we have is God's means of drawing us closer to Him and for His service. What little we have costs us nothing. Do you have little in terms of wealth and property? Says Burroughs:
If a king were to send a piece of meat from his own table, it would be a great deal more pleasant to a poor subject of his kingdom, than if he had twenty dishes some other way. If the king sends even a little thing and says, 'Go and carry it to my dear subject as a token of my love,' Oh, how delightful would that be to him! When your husbands are at sea and send you a token of their love, it is worth more than forty times what you already have in your houses.
I wanted to quote him more, but I come close to republishing his every word. So may these choice excerpts suffice:
"Thus, a godly man wonders at his cross that it is not more, a wicked man wonders his cross is so much".
"In a clock, stop but one wheel and you stop every wheel, because they are dependent upon one other. So when God has ordered a thing for the present to be thus and thus, how do you know how many things depend upon this thing? God may have some work to do twenty years hence that depends on this passage of providence that falls out this day or this week."
He being dead yet speaketh
Third photo by Gustavus Ellinthorpe Sintzenich - Art UK, Public Domain, https://commons.wikimedia.org/w/index.php?curid=28574804