Thorns and thistles
Now that we are halfway through July the hedgerows and verges are beginning to assume their late Summer colours.  Not only are the vibrant greens of Spring starting to darken but the flowers are becoming predominantly cream, dark pink and purple - the creamy froth of meadowsweet, the umbels of cow parsley, the pinks of foxgloves and willowherb, the purples of tufted vetch and meadow cranesbill.  And thistles.  Some tall and statuesque, some tall and straggly; some dark purple, some paler; thriving in all sorts of conditions, needing no special care or attention.  Seen close up, the flowers are really rather lovely and are a good source of pollen for bees and butterflies.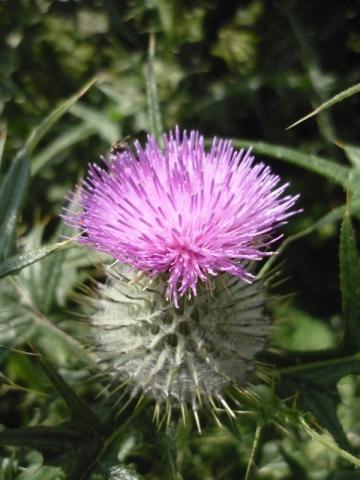 But of course, one of the problems with thistles is that they have thorns, and thorns, as any gardener would tell you, are extremely hard to get rid of once they have got in!  Even little ones can lead to nasty, festering sores.
Isn't that like sin?  So attractive, getting in so easily yet so hard to get rid of.  Indeed, it took the death of the Son of God on Calvary to deal with it.
Let no one say when he is tempted, "I am tempted by God"; for God cannot be tempted by evil, nor does He himself tempt anyone.  But each one is tempted when he is drawn away by his own desires and enticed.  Then, when desire has conceived, it gives birth to sin; and sin, when it is full-grown, brings forth death.
                                                                                                                        James 1:13-15
When I survey the wondrous cross,
On which the Prince of glory died,
My richest gain I count but loss,
And pour contempt on all my pride.
See, from His head, His hands, His feet,
Sorrow and love flow mingled down;
Did e'er such love and sorrow meet,
Or thorns compose so rich a crown?
Were the whole realm of nature mine,
That were an offering far too small;
Love so amazing, so divine,
Demands my soul, my life, my all.
                                                Isaac Watts