Thoughts from my sewing machine
There's another baby on the way in the family, so I'm quilt making again.  A pleasant occupation on cold, wet November days!
Being of a fairly frugal disposition, the quilts I make are usually scrap quilts – which doesn't mean that they are only fit for the scrap heap (or at least, I hope not!) but that I make them from pieces of fabric left from other things.  So first I go through the contents of Auntie Maude's travelling trunk to select what I want, then I cut the pieces, stitch them together to make the blocks, stitch the blocks to make strips, stitch the strips together to make the quilt top….  So many opportunities for slight inaccuracies to creep in and spoil the whole thing!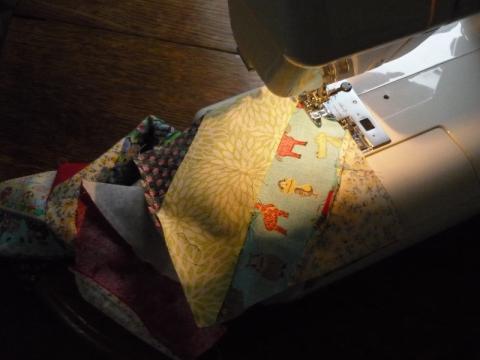 As I was carefully sewing my quarter-inch seams the other day, two things occurred to me.  Firstly, how easy it is for small errors to be unnoticed, or tolerated, in either belief or practice.  I'm sure both heresy and backsliding start with the smallest of deviations.  How vital then to have God's word hidden in my heart and mind, not just on a bookshelf or in my phone.
As the Lord commanded Joshua: This Book of the Law shall not depart from your mouth, but you shall meditate in it day and night, that you may observe to do according to all that is written in it.  For then you will make your way prosperous, and then you will have good success.  (Joshua 1:8)
My second thought was that, like the quilt at the moment, I am a work in progress.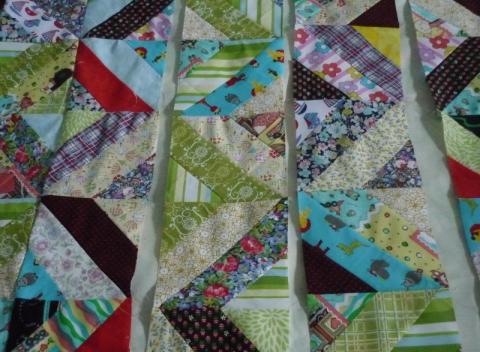 If you were to see it, you might think it looks alright – but I am all too aware of its imperfections.  In striving for holiness, in seeking to walk worthy of my Saviour, there are so many ways in which I know I fall short.  Such a comfort to remind myself that He who has begun a good work in me will complete it; that He is working in me what is well-pleasing in His sight, that one day I shall come forth as gold!
Out of the depths I have cried to You, O Lord; Lord, hear my voice!  Let Your ears be attentive to the voice of my supplications.  If You, Lord, should mark iniquities, O Lord, who could stand?  But there is forgiveness with You, that You may be feared.  I wait for the Lord, my soul waits, and in His word do I hope.  Psalm 130:1-5
From deep distress I cry to Thee,
Lord, hear me, I implore Thee;
Bend down Thy gracious ear to me,
Regard my prayer before Thee;
If Thou rememberest each misdeed,
If each should have its rightful meed,
Who may abide Thy presence?
Our pardon is Thy gift; Thy love
And grace alone avail us;
Our works could ne'er our guilt remove,
The strictest life would fail us;
That none may boast himself of aught,
But own in fear Thy grace hath wrought
What in him seemeth righteous.
And thus my hope is in the Lord
And not in mine own merit;
I rest upon His faithful Word
To them of contrite spirit;
That He is merciful and just -
Here is my comfort and my trust;
His help I wait with patience.
Though great our sins and sore our woes,
His grace much more aboundeth;
His helping love no limit knows,
Our utmost need it soundeth;
Our kind and faithful Shepherd He,
Who shall at last set Israel free
From all their sin and sorrow.
- Martin Luther