Tosside Congregational Chapel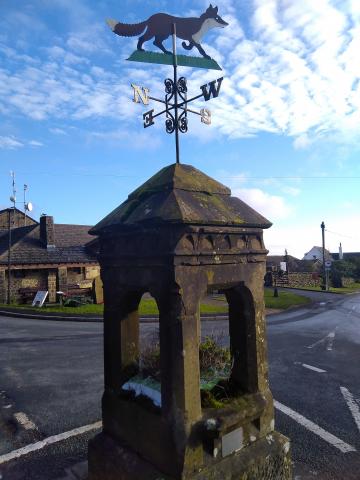 I visited the village of Tosside, between Slaidburn and Wigglesworth. It's now better known to cyclists and fitness fanatics who flock in droves to the nearby Gisburn Forest. Tosside is a queer place, having the county border passing through its middle. Just without the village is an old congregational church, long closed. It opens for occasional services each year, though I've never been able to attend owing to my commitment at Salem. I duly knocked on the manse door, understanding a caretaker lived therein, who was disposed to lend the key to visitors that they might see the chapel's interior. A small, unforgiving dog snarled and yapped as I waited, but none came to answer. The lights were on, and I saw a limb in the upstairs window. Perhaps I had spoiled a well-deserved afternoon nap, or my flat cap, tweed jacket and tie combo suggested I was not the kind of outsider welcome in these parts. Sadly, I left without having gone in, but took some pictures of the exterior.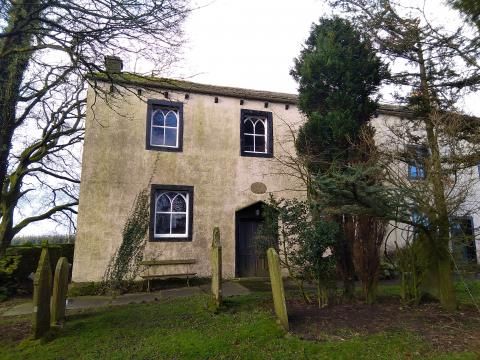 Over the doorway is an inscription: Mount Sion, 1812. She's a little older than our Salem, but has just as lovely a name. In fact, this date refers to the building only, and not the church's conception. For that, we go back to the days of persecution. Under Cromwell, believers had worshipped in the Presbyterian manner in the Anglican Church (since rebuilt, but cheerfully available for public visits), and left when aggressive, prayer-book Anglicanism was restored. Meeting in farmhouses, such as Henry Robinson's of Tosside and John Bullock's of Sawley, gospel witness was kept alive in these lonely parts. Close by was Richard Frankland's 'dissenting academy' (a kind of minister's training college) which must also have helped the situation.
In the early 1800s, we read of meetings happening at Sandysyke Farm. The Rev Joseph Cockin, in his memoirs, wrote:
This is to all appearance the most unlikely place we visit, and yet, in reality, it is superior to any of them in numbers, regularity of attendance and degree of information. The usual number of hearers is between 200 and 300 and they come from a great distance, on rugged roads; and are very regular in their attendance whether the nights be moonlight (sic) or dark, or the weather be favourable or stormy. It affects our feelings and gladdens our hearts to see gracious women, not a few, with young children at the breast who have come two or three miles to attend the word, who set one foot on a bench to spare a hand to give a last farewell to a minister and to wish him good-speed…we exclaim with admiration 'What God hath wrought.'
Sadly, the chapel built to accommodate this local revival cannot now sustain a congregation, and sits by the roadside looking tired and worn. I pray the time comes when that generation's living descendants feel the move of God's Spirit as their ancestors did; that Tosside's doors once more open each week, not to curious outsiders (which is difficult enough), but to lonely, heart-broken sinners, that they might find hope in Christ Jesus.
And Isaac digged again the wells of water, which they had digged in the days of Abraham his father; for the Philistines had stopped them after the death of Abraham: and he called their names after the names by which his father had called them.
Genesis 26:18