Trump March, Qatar and Protestors' Hypocrisy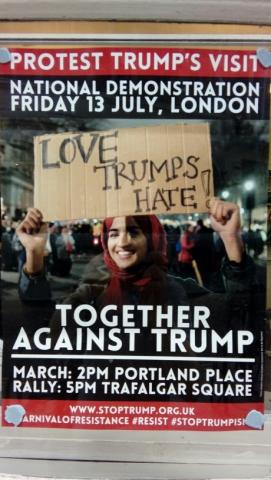 Last week, huge crowds marched on London to protest at the visit to our country of the democratically elected 45th President of the United States of America. He was here at our Prime Minister's invitation and met our Queen at Windsor. Nevertheless, a huge balloon mocking him was flown with the Mayor's permission and a number of the 100,000 protestors carried signs inviting him to die, calling him a Nazi and demanding he be deported. There was even a stand which had a rubber Trump head and torso which angry liberals could use to punch and kick to demonstrate how 'woke' they are. This "carnival of resistance" was watched around the world.
Mr Trump is not someone I like on a personal level, but then I don't know him on a personal level. I respect all people's right to protest but the hatred for this man I found sickening and shameful. Interestingly, our capital will be visited by the Emir of Qatar, Sheikh Tamim bin Hamad Al-Thani today. His country has been criticised for its toleration of slavery, working to death migrant workers and the illegality of homosexual relations. So where are all last week's marchers? Where's the balloon? Where are the placards? Answer: Nowhere to be seen. 
Postscript: According to the Guardian's website, protestor's were paid £20 a piece to hang around Downing Street when the Emir arrived.