Tyres & Grace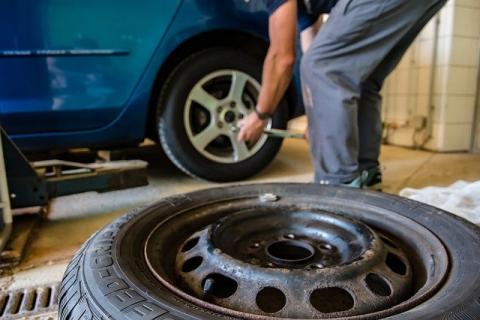 "Oh, no. Not again!".
The front right-hand tyre on my car was going flat- again. I only replaced it the previous fortnight. Was I being targeted by vindictive folk? Was it just unlucky that I had driven over a nail in the same place? I phoned up Colne Tyre Centre and explained the situation. They booked me in that afternoon.
I waited while the young man attempted to remove the wheel. It would not budge, so he called for assistance. Soon, all five of the garage's employees were attempting to extricate the offending tyre. Various tools were summoned, but to little effect. I was told it would take another half hour; would I mind waiting? I agreed to go for a walk around Colne, its delights sufficient for a 30-minute wander. Twice I returned, and twice the same men were puzzling over my stubborn vehicle. As I watched them, I began a crude calculation of their respective hourly rates multiplied by the time spent on my Ford. The pound signs appeared in my head, whizzing around like the symbols on a slot machine or numbers on a meter. After two hours, it was done. I braced myself for a hefty bill. A bolt had snapped, the mechanic explained, and he had had to replace it. Although the tyre was still sound, there was some corrosion in the wheel, and he had grinded it smooth. I asked how much.
"No charge", he replied.
"Well what about all the time you've taken? The new bolt?"
"The boss says no charge. It's fine."
Unusually, for one with Yorkshire ancestry, I went to see the boss to offer him some money, which he refused. It was all gratis. The more cynical will point out that the garage has successfully procured a loyal customer, who will now suffer no other business to sell him tyres. I see here a picture of grace. They might have charged me £200, £100, £50. They might have accepted a tip or requested a little cash in hand. Instead, they did much in return for nothing.
For by grace you have been saved through faith, and that not of yourselves; it is the gift of God, not of works, lest anyone should boast. Ephesians 2:8-9
Image by Hannes Edinger from Pixabay