UFOs: Masquerading as Angels of Light
Do you see this UFO? I photographed it from our chapel last week. It stopped being an unidentified flying object after approximately 1.5 seconds when I identified it as a cloud.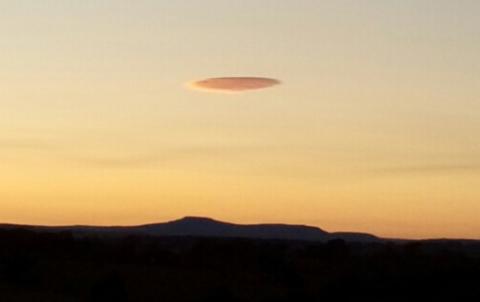 Oddly enough, three days before, I saw a light moving in the sky, which then disappeared. A shooting star, perhaps? Having just finished reading Gary Bates' Alien Intrusion: UFOs and the Evolution Connection, however, I have come to realise that UFOs and their alleged passengers are both an attractive idea to many unbelievers as well as an increasingly hazardous threat to spiritual health. 
Many millions claim to believe in aliens, which they consider to be extra-terrestrial visitors to our planet from space. The evidence for this is highly questionable- many of those claiming to have found evidence have been exposed as liars. This confirms the Fermi Paradox which identifies the high mathematical probability of there being alien races in a fifteen billion-year-old universe, while contrasting this with the lack of credible evidence, which is sparse to say the least. In other words, if they're out there, we should have clear proof of them by now. 
On the other hand, many claim to have received messages from aliens or to have even been 'abducted' by them. These 'aliens' inform these people that they are performing experiments on them to help save the human race, or they are to warn them of future peril. Sometimes they claim to be our creators, others times they say they are our saviours. They seem to be highly interested in religious ideas but have a real antipathy for biblical Christianity. Attempted abductions have ceased when individuals cried out to Jesus to help them. As a rule, researchers have discovered, Bible-believing Christians are the only group not targeted.
During these encounters, people have allegedly been subjected to sexual abuse and received odd messages about future events. Afterwards, the abductees suffer poor health, mental or physical, or are drawn into occult practices and New Age mysticism. Some 'aliens' even share their names along with their peculiar communications: Khieif tells people that in the Garden of Eden, humans were created by 'the serpent people'. Semjase assures her contacts that the Bible has holes in it and cannot be trusted. One called Ashtar, on various occasions since the 1950s, has claimed that there are humans living with Satan on the moon. Although these characters seem to have a real interest in spiritual things, they despise scripture.
What is clear is that these aliens are not extra-terrestrial visitors, but fallen angels, unclean spirits, demons. These beings are known to tell lies to those to whom they communicate. Subjecting individuals to sexual abuse, whether actual or simulated, is malevolent and sinister. Denying that Jesus Christ has come in the flesh, they assure their listeners that they are here to help the human race. Sometimes they talk of spaceships rescuing humans, other times they talk about the need for the planet to unite.
Bates believes that there will be an increase in the 'visits' of these 'aliens' as the crescendo of deceit climaxes immediately before Christ's return:
Now the Spirit expressly says that in latter times some will depart from the faith, giving heed to deceiving spirits and doctrines of demons.
1 Timothy 4:1 (NKJV)
For we do not wrestle against flesh and blood, but against the rulers, against the authorities, against the cosmic powers over this present darkness, against the spiritual forces of evil in the heavenly places.
Ephesians 6:12 (ESV)