Use all diligence
Sometimes, if I'm feeling in the mood for doing something creative, I make some of my Christmas cards. This year, I decided to do some using origami. Paper had to be carefully and accurately cut and folded, following the instructions exactly as they were written.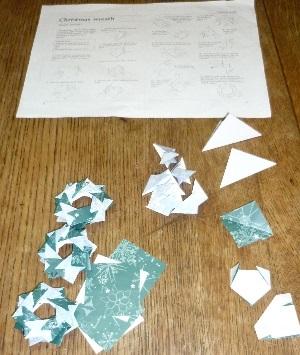 Isn't that how we should live our Christian lives? God has given us His instructions – His commandments – in His written Word, and we should follow them fully, carefully, thoughtfully, with all diligence. Surely we owe no less to the Sovereign Ruler of the universe!
Blessed are the undefiled in the way, who walk in the law of the Lord!
Blessed are those who keep His testimonies, who seek Him with the whole heart!
They also do no iniquity; they walk in His ways.
You have commanded us to keep your precepts diligently.
Oh, that my ways were directed to keep Your statutes!
Then I would not be ashamed when I look into all Your commandments.
I will praise You with an upright heart when I learn Your righteous judgements.
I will keep Your statutes; Oh, do not forsake me utterly! (Psalm 119:1-8)
With my origami Christmas cards, any inaccuracies could be disguised, and the overall effect appear perfectly fine. We may live our lives in such a way that we fool other people, or even ourselves. But God is not deceived and He sees the thoughts and intentions of our hearts.
"There is," wrote Samuel Rutherford, "a great and wide difference between a name of godliness and the power of godliness. Godliness is hottest where there are fewest witnesses."
The God of the Bible is not a fuzzy-edged Deity, who exists to enhance our self-esteem, fulfil our wants, and make us feel good about ourselves. Rather He is a God of sharp-angled holiness and blazing purity, who rightly demands our total obedience, complete allegiance, and whole-hearted love.
"Today there is resistance to the tenet that has been most characteristic of Protestant thought since the earliest days of the Reformation – namely, that holiness fundamentally defines the character of God and that love is not an alternative to it but, rather, an expression of it. This must be so. If God's holiness is his utter purity, his incomparable goodness, the measure of all that is true and right, the final line of resistance to all that is wrong, dark, and malignant, then love must be a part of this. If love is virtuous and right, it must be an expression of divine holiness, the essence of which is truth and right. Holiness is what defines God's character most fundamentally, and a vision of this holiness should inspire his people and evoke their worship, sustain their character, fuel their passion for truth, and encourage persistence in efforts to do his will and call on his name in petitionary prayer.
Modernity's God is not nearly so morally angular as the God of the Bible. His sharp edges have all been ground down to make him less threatening, more comfortable, more tame. He is rarely perceived as the God who, in his awesome greatness, summons his people to worship, to hear that Word of truth they cannot find within themselves or their world. Robbed of such a God, worship loses its awe, the truth of his Word loses its ability to compel, obedience loses its virtue, and the church loses its moral authority. Why has this happened? Because it is the easiest route to take. God's love seems less burdensome than his holiness. The church has succumbed to the seductions of our therapeutic culture, and in that context it seems quite natural to favour the relational dimension over the moral dimension, mysticism over cognitive conviction, self-fulfilment over personal surrender, self-image over character… " David F Wells, God in the Wasteland
Yet it is to the God of the Bible that we will each, one day, give an account.
For the word of God is living and powerful, and sharper than any two-edged sword, piercing even to the division of soul and spirit, and of joints and marrow, and is a discerner of the thoughts and intents of the heart. And there is no creature hidden from His sight, but all things are naked and open to the eyes of Him to whom we must give account. (Hebrews 4:12-13)