Vishnu's Pillar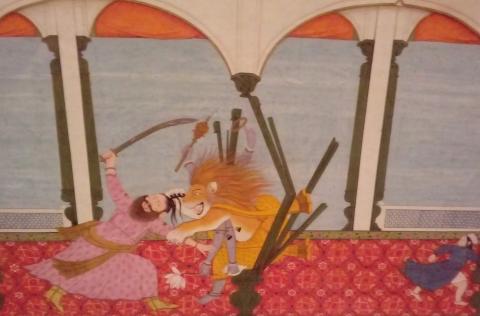 According to Hindu legend, King Hiranyakashipu discusses theology with his son, Prince Prahlada. Prahlada asserts that Vishnu is the omnipresent, supreme controller of the universe. Hiranyakashipu asks "then why do I not see Him in this pillar in front of me?" When his son replies that Vishnu is indeed inside the pillar, the king instructs his demons to destroy it. Vishnu bursts out of the pillar in his half-man, half-lion avatar, Narasimha, and attacks Hiranyakashipu.
There might be some valid moral lesson here, but it provides a stark contrast to the Lord Jesus. The Bible distinguishes clearly between created and Creator; the two are clean different. Although God sustains the creation by His will, He is not essentially a part of it. At the incarnation, God was born a real human, that He might effect our race's salvation. When so doing, He never physically attacked the proud and arrogant who saw fit to scorn Him. Rather, He allowed them to attack and kill Him, that His terrible death might atone for their sin. While Vishnu bursts out of pillars to attack and humiliate a proud ruler, the Lord Jesus was bound to one that He might be better flogged. Religious myth provides interesting tales the world over, but there is nothing so wonderful and amazing as truth.
But He was wounded for our transgressions, He was bruised for our iniquities; The chastisement for our peace was upon Him, And by His stripes we are healed. Isaiah 53:5
The picture I took in the Royal Gallery, Buckingham Palace.