Visiting Yorkshire, Getting Sanctified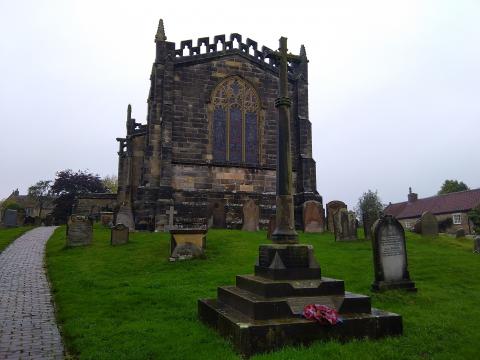 I'm currently away for a couple of days in the district of Ryedale in North Yorkshire. Locked in a cheap hotel room for a couple of nights does my wandering mind good when I have sermons and Bible studies to prepare. It also affords me opportunity to indulge one of my pastimes by day- hunting for Saxon churches and seeking pictures of spiritual truth. Regular readers will know this means a number of Yorkshire-themed posts coming out over the next few weeks.
I set off from my room at the Angel around 9am donning waterproof trousers and coat. One cannot take a trip to Yorkshire in the autumn and demand sunshine, though it was certainly mild. I tootled for 59 miles, stopping off and inspecting various places. Mozart blared away, while the car was increasingly covered in filth, so mucky and muddy were the roads. As a Lancastrian, it is my natural duty to chide Yorkshire folk for their county's slovenly attitude to keeping clean their highways. It's a wonder I did not slide into a ditch and remain there, camouflaged.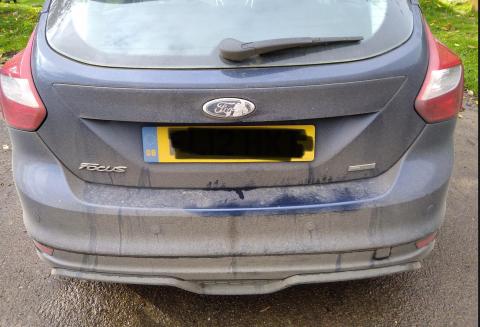 Sadly, some of the churches were kept locked, while others, though open, insisted that masks be worn via laminated signs sellotaped to the doors. It all felt so 2020. Despite this, I returned to my base quite satisfied. One little memory, however, stands out. It was of another laminated sign stuck in the grounds of Coxwold Church: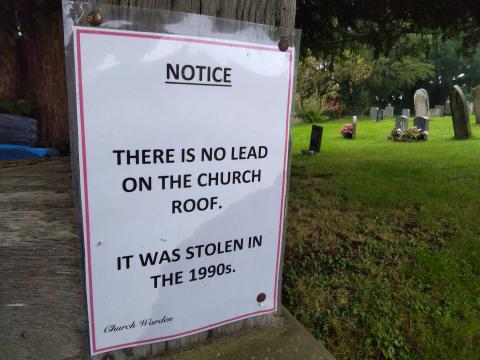 THERE IS NO LEAD ON THE CHURCH ROOF. IT WAS STOLEN IN THE 1990s.  
And another:
THERE IS NO LEAD ON THE CHURCH ROOF- IT HAS ALREADY BEEN STOLEN.
This made me laugh. I can imagine the disappointed faces of the ne're-do-wells arriving in their white vans to divest this building of its lead. They've been beaten to it. A former generation has already stolen it and there's none left to pinch. The church wardens have presumably found other ways of sealing the gutters, rather than replacing the lead which would only be targeted by fresh thieves.
I wonder if this is one of the reasons, and advantages, of being brought spiritually low. We often go through times in our lives in which illness, grief, hardship and pain seem to stamp us into the ground. Once we flew high, but now we are in the doldrums. We know that the Lord allows Satan to prick His people- the Bible records Job, Peter and Paul all being subjected to the devil's sharp attentions. Yet He allows it because Satan is the unwitting tool by which the Lord chips off the rough edges and proud corners. The more affliction through which we go, the more we rely on the Lord for our joy and satisfaction rather than our own resources. Upon those whom the adversary has worked, the Lord is able to hang there a sign:
THERE IS NO PRIDE IN THIS BELOVED CHILD; IT HAS ALREADY BEEN REMOVED.
THERE IS NO MALICE IN THIS SAINT; IT HAS ALREADY BEEN SCRUBBED AWAY.
THERE IS NO RESENTMENT IN THIS BELIEVER; IT HAS ALREADY BEEN SPENT.
THERE IS NO FEAR IN THIS DISCIPLE; IT HAS BEEN ALREADY BEEN EXPUNGED
How disappointed the Accuser must be, slinking off to find some other soul to goad and harass.
And ye have forgotten the exhortation which speaketh unto you as unto children, My son, despise not thou the chastening of the Lord, nor faint when thou art rebuked of him: For whom the Lord loveth he chasteneth, and scourgeth every son whom he receiveth. If ye endure chastening, God dealeth with you as with sons; for what son is he whom the father chasteneth not? Hebrews 12:5-7