Waberthwaite Church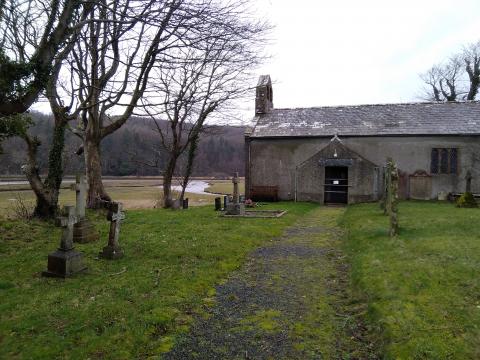 I recently called at Waberthwaite. It sounds like a made-up place, an assertion not easily challenged by visiting. To access the little church, one has to drive through a farmyard. There, by the mouth of the River Esk and besides the mudflats of a tidal estuary, sits a squat little church. Like a rather dignified old lady still in her own home, this ancient church cares not for pretentious looks and architectural flourish.
Within are family-sized box pews that I dated to the late eighteenth century and a fine, dark oak pulpit from 1630. These are relatively modern innovations for such a plain, medieval church. Without it stands an ancient Anglian or Norse cross shaft with interlace patterns, demonstrating the site's pedigree.
There was something wonderfully remote about it all. One online writer describes it as being a "thin place"- where the barrier between the physical and spiritual is especially slender. Perhaps. I wondered why anybody would bother building a church there at all. This, of course, is a lazy, modern question, which assumes a location's current sparsity of population has always been so. It also betrays a townie's urban prejudice. Upon the old Caroline pulpit are the words:
THE GIFT OF ABRAHAM CHAMBERS GENT. VAE MIHI SI NON VERUM PRAEDICO S R 1630
It loosely translates, "Woe to me if I do not preach truth", which likely refers to Paul's comment in 1 Corinthians 9:16:
For if I preach the gospel, I have nothing to boast of, for necessity is laid upon me; yes, woe is me if I do not preach the gospel!
Our chapel has recently been joined by a young man whose family minister in foreign countries, places few of us would be able to identify on a map with much degree of certainty. To such distant and remote peoples, we should indeed take the gospel. To such obscure places as Martin Top and Waberthwaite, we should indeed take the beacon of Christ's light. Someone once remarked that I ministered in 'the middle of no-where'. Just as the Lord appoints no-bodies, so He also sends them to no-wheres, that His peace and radiance might cover the earth, as the waters cover the sea.