Wallpaper Bullies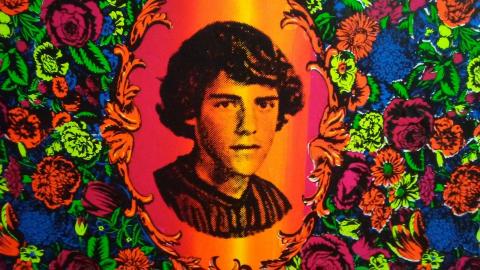 Many kids at school are bullied. Therefore, sadly, some kids at school are the bullies. Perhaps there is sometimes even an overlap of roles. Virgil Marti is a professional artist who decided to ironically immortalise his school tormentors in Bullies (1992). Using garish fluorescents to colour the 1970's yearbook portraits of the boys in question, he created a vivid flock wallpaper by which they would be remembered. It hangs at the Philadelphia Museum of Art and is currently exhibited at Manchester's Whitworth Gallery. 
When one considers the faces, however, they look like pleasant, normal teens. Truly, butter wouldn't melt in their mouths; their long hair and innocent gazes evoke the fun and excitement of the decade. Yet beneath those sweet and carefree faces is a desire to annoy and dominate one socially weaker than themselves.  
Bullying comes naturally to fallen creatures, even in one so young and uncorrupted by the adult world. Teachers, parents and others of each generation must do whatever it takes to limit its effects and minimise its damage. Few of us are likely to exact so sweet a revenge by designing special wallpapers that will be displayed around the world, but the God of the poor will surely hold all bullies to account. Sadly, bullying is not confined to the classroom and playground. It can be found in the workplace, within families and even marriages. 
Cast out the scorner, contention shall go out; yea, strife and reproach shall cease.
Proverbs 22:10