Wars and Revolutions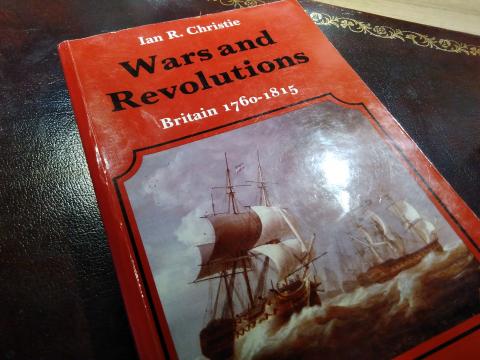 I made a new year's resolution back in January which I have so far honoured- to buy no more books until my unread books become read books. To that end, I am to finish one new book each week. I found this one: Wars and Revolutions: Britain 1760-1815. To my shame, I saw that I had written in the date of purchase: 30th May, 2001. For almost twenty years it gathered dust on the shelf, neglected and ignored. I thought it looked a little dry, but my resolution kicked in and I finished it. It provided me with two interesting thoughts. The first was the difficult position many dissenters (ie non-Anglican protestants) found themselves in from the 1790s. As the British fought the French and their revolutionary political ideas, anyone whose loyalty to King and Church of England was less than unwavering was deemed a national threat. A number of chapels were destroyed. By 1816, the war was over, but the mistrust and suspicion which had been attached to our founders will have remained. Our chapel was built at a time when congregationalism was deemed to be unrespectable, dangerous, even. May we be faithful to Christ's gospel even when the prevailing national mood is flavoured with hostility.
Blessed are you when they revile and persecute you, and say all kinds of evil against you falsely for My sake. Rejoice and be exceedingly glad, for great is your reward in heaven, for so they persecuted the prophets who were before you. Matthew 5:11-12
Secondly, Great Britain in 1783 had lost her American Colonies. She had no European allies, but plenty of continental enemies seething with resentment and jealousy. There was a very real danger of a Napoleonic conquest of this country from the 1790s. Yet within a few years of 1815, the nation which lost America and had been on its knees fighting the mighty French soon commanded the world's largest empire, arguably the first and foremost global hyperpower. Fortunes change. The church of God, once a strong force in this land, is now reduced by feebleness, compromise and hostility. Too few churches still preach the old gospel; too many love showmanship and razzamatazz. Yet she too, like Great Britain of old, will recover from her frailty when her Beloved calls her home. Though now she appears a pauper, she will one day be attired as a queen.
"Come, I will show you the bride, the Lamb's wife." Revelation 21:9