Warton: St Oswald's Dead
I visited Warton last week, a cramped but attractive village in Lancashire's north, not very far from Carnforth. Its church is an ancient building and surprisingly large. Inside it hangs the Stars and Stripes, annually flown from the tower, to commemorate the American Victory in the War of Independence; distant cousins of General Washington lived in the village. It's a tenuous link, but doubtless one which brings pleasure to those rebellious colonists and extra trade to the local pub.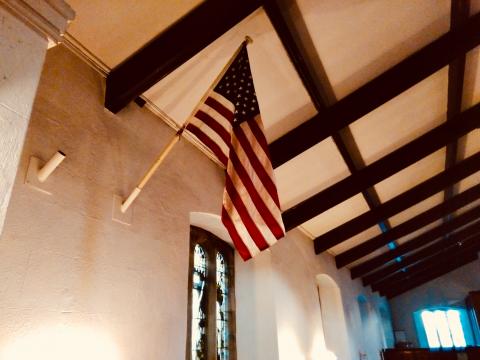 Unusually for a late Saturday afternoon, St Oswald's was nicely heated and tasteful Christian hymns were being piped out of speakers. Gospels were available to take away free of charge and there was something very pleasing about the place. Closer inspection revealed a statue of Mary nestling in a crevice and a laminated A4 sheet entitled 'Praying for Our Loved Ones Who Have Died'. The printed prayer written thereon was not as bad as it might have been, and a Bible verse from Thessalonians was wheeled out to offer some justification. As a Protestant, I do not approve of this, and here's why: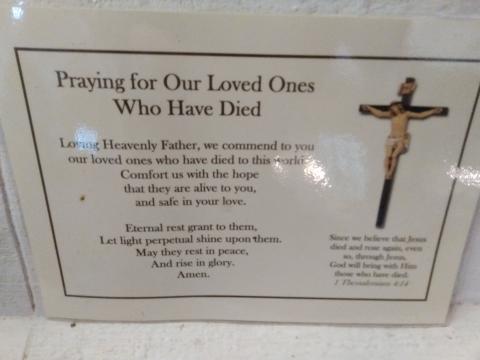 -Praying for the dead implies- or declares- that they are not in the perfect state and require our assistance. The Roman Catholic instantly recognises here the mythical purgatory, from the fires of which departed sufferers receive relief on account of our prayers.
-Praying for the dead suggests that trusting Christ- or rejecting Him- was not the ultimate decision we must make. Those who died in Christ are not in need of our prayers; those who died without Him cannot be helped by them.
-It suggests that those fortunate enough to have caring loved ones with both the time and inclination to pray are in a stronger position than those without.
-Praying for them is not a million miles away to praying to them, a practice anathema to the scriptural record and cheerfully embarked upon by Rome, as they offer incantations to the saints. 
I like the vicar at Warton and I admire his wonderfully historical church with its cheeky American flag. Nevertheless, his temple needs cleansing.