A Wasted Trolley's Worth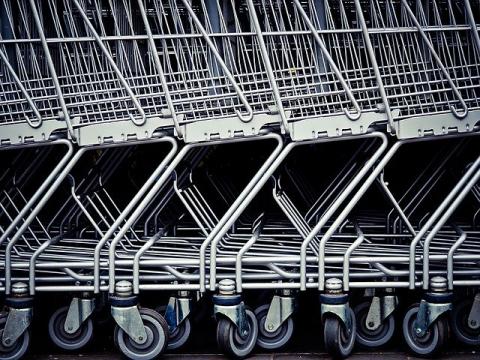 I finished visiting some church folk about 7.30 one evening last week. Concluding it wasn't worth the expense of lighting the fire, I decided to go and do my weekly shop. I had a voucher- £6 off if I spent £60 or more. I therefore carefully travelled the aisles, stocking up on items to reach the level at which the discount would kick in. After some time I arrived at the checkout only for a warning alarm to sound. Was it a fire? A robbery? In turned out that the escalator was leaking oil and spirting it out. We shoppers and staff were duly evacuated and eventually told the store would not be reopening that night. My unbought shopping, so carefully selected and planned, was sitting idly in a trolley, abandoned and unused, wilting or defrosting.
I'd lost an hour or so, and went home supper-less, resorting instead to a bacon butty and bowl of cornflakes. One fellow was angrily remonstrating with staff for his wasted time. It was hardly their fault but I sympathised with his sentiment. An hour gone, and a still empty fridge for my troubles. Yet it's no great hardship- I'd merely have to make a return visit the next week.
What if it were more than a trolley's worth of food I'd wasted? What if it was a lifetime's acquisition of wealth, property, popularity, and accomplishments? What if, as I proudly wheeled them along, expecting some final adulation, I'm forced to leave them all behind as some unanticipated emergency, such as death, cruelly interrupted my plans?
For what shall it profit a man, if he shall gain the whole world, and lose his own soul?
Mark 8:36
Image by Hands off my tags! Michael Gaida from Pixabay