When the Police Met the Preacher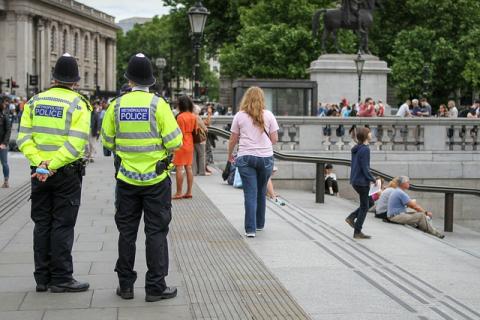 71-year-old Pastor John Sherwood was pulled off a podium, arrested and handcuffed by London's Metropolitan Police last month. His crime? Sharing his understanding of Genesis' teachings on marriage and God's created order. Terrified Londoners 'flagged down' nearby constables to alert them to this appalling localised crimewave. The police duly dragged him off. Literally. You see, some of those people walking past Uxbridge station were offended, and the police evidently believe that to offend someone is to commit a crime. The good news for the Metropolitan Police is that its 'directorate of professional standards' assessed the video footage and found "no evidence of misconduct" by officers. One wonders what guidelines they based this upon; perhaps they made good use of the communist Deutsche Volkspolizei's training manual on public order.
Still, Mr Sherwood's account of his time in the police station is even more concerning. He claims that officers interrogated him regarding his general attitudes towards gay people. He was even asked what he would do if his grandchildren were gay. One wonders whether he was arrested for thinking things as well as speaking things. For what it is worth, I have sent a complaint to the Met. I ended it with a request:
"I am planning to come to London for a holiday this summer. Are you able to provide a list of which opinions are legal and illegal in your city?"
Sergeant Payne, who offered reply, failed to answer this question, but she did explain that it was legally impossible to be "adversely effected" (sic) by police conduct which one merely sees on a video. Well I can assure you that the video, below, affects me very much. It makes me wonder how the Metropolitan Police find the energy to swoop down on Christian preachers while overseeing a city with increasing levels of violent crime. 
Street preaching is an evangelistic endeavour which requires particular skill and sensitivity. Preaching about Christ's atoning work might be more useful that focusing on the national obsession with sexual identity, but the preacher should have the right to quote any section of God's word. Mr Sherwood's exposition of Genesis successfully removed the mask that Britain is a liberal country. Perhaps the police will send SWAT teams into our churches, next, on the suggestion that material contrary to acceptable ideology is being uttered within. 
Image by Fungai Tichawangana from Pixabay