Who Blew Up Hoghton Tower?
Hoghton Tower is an impressive fortified manor house between Blackburn and Preston. It was there in August 1617 that King James I knighted a loin of beef on account of its quality, creating Sirloin. The mansion is still the home of the De Hoghton family, whose present head, Sir Bernard, allows visitors, for a fee, to tour his lovely home. Almost certainly, a young William Shakespeare either tutored or performed plays here before he was famous. I enjoyed a tour of the tower last month. I confess to being a tour-guide's nemesis; knowing the difference between a baron and a baronet, and the true circumstances of the Duke of Buckingham's death, I discreetly corrected her.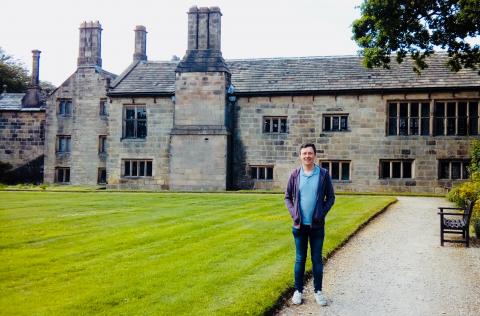 In the Civil War, the house was either the scene of an awful accident or terrible treachery. Royalist Hoghton Tower was besieged by Parliamentary troops under Captain Nicholas Starkie of Huntroyd near Padiham. It was defended by a garrison of only 30-40 musketeers. These defenders capitulated on February 14th, 1643, but when the Roundheads entered the house, the powder magazine in the old pele tower between the two courtyards exploded with terrifying force, killing over 100 Parliamentary men. This central tower was never rebuilt. Historians cannot agree on whether it was careless accident, with tobacco-smoking officers or soldiers with match-lock muskets allowing sparks near powder kegs, or something more treacherous. Loading the Tower with explosives, waiting for the Roundheads to enter and then lighting the touch paper was a far quicker way of defeating them than on the battle field. The parliamentary Punctuall Relation preferred this explanation, saying the men were 'treacherously and perdifously blown up by two of them whom they had before given quarter, who had a traine of powder laide…[and] gave fire to the said traine' before going on to describe arms and legs separated from torsos. Only the 'Pope and the Devill' could pardon such treachery. Lancashire's Valley of Achor, written by Denton's John Angier, a previous subject of this blog, attributed the blast to 'That great Souldiers' Idoll, Tobacco' and their 'want of heedfullnesse'.
We Christians are soldiers. Though we may never offer physical violence to anyone, nor to a beautiful country house, may we heed both warnings that come from this tale: Satan, though he appears defeated, has plenty of bite remaining. Victory, though already won, must not be compromised by our carelessness.