William Dowsing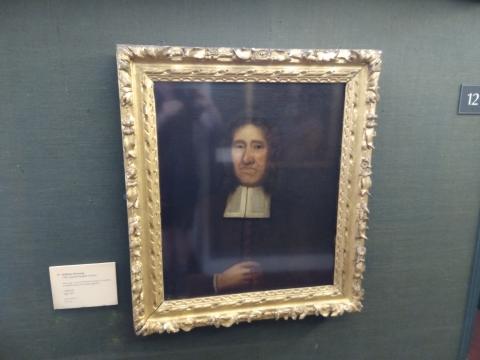 William Dowsing was a seventeenth-century puritan and the scourge of East Anglian churches. In 1643, the Earl of Manchester appointed him "Commissioner for the destruction of monuments of idolatry and superstition". His job was to enact the Parliament's statute against all "fixed altars, altar rails, chancel steps, crucifixes, crosses, images and pictures of any one of the persons of the Trinity and of the Virgin Mary, and pictures of saints or superstitious inscriptions." He would charge each church for his services, as well as the costs of putting right any damage he inflicted. Ironically, Lord Manchester, Dowsing's patron, fell out with Oliver Cromwell in 1644, which meant Dowsing's stretch as Iconoclast-general also came to end. Those remaining pieces of artwork in East Anglican churches were therefore saved by Cromwell, indirectly, contrary to conventional church guidebooks and information boards.
Dowsing wrote a journal, recording his various acts of vandalism, which Trevor Cooper and others have shared online. Both Dowsing and I called at Woolpit Church in Suffolk, and each of us recorded our visit, though he was rather more destructive:
Woolpitt, Feb. 29. My Deputy. [removed] 80 superstitious pictures; some he brake down, and the rest he gave order to take down; and 3 crosses to be taken down in 20 days.— 6s. 8d.
Elsewhere:
Kesgrave, Jan. 27. We beate down 6 superstitious pictures; and gave order to take down 18 cherubims, and to levell the chancel.
Feb. 6. At Chesterfield, we gave order to take down 14 crosses on the steple, and 2 on the porch; we brake down 40 superstitious pictures, and gave order to take down 50 more at least, and to levell the steps in the chancell.
('Extracted from Trevor Cooper (ed.), The Journal of William Dowsing: iconoclasm in East Anglia during the English Civil War, Woodbridge, 2001')
As a theological and ecclesial heir of the puritans, I am not out of sympathy for Dowsing and his intentions. As something of a historian and lover of art, I regret his efficiency, though quietly I smile for the number of churches he never got round to visiting. Though I had removed several items from Salem Chapel when I was appointed, they were returned to their owners and not thrown on the fire.
So what of Dowsing? His portrait hangs at Ipswich's Christchurch Mansion, and what a plain-faced, off-the-peg puritan he is. He died in 1668, outliving the godly regime whose church services he must have missed. There is very little reference to him after his smashing days; one wonders if he kept a low profile for having upset so many people. Was he a genuinely saved, regenerate man? We cannot tell. Some who despise falsehood do not necessarily embrace truth. Some who shun idols do not always embrace Christ. I shared a hotel room with a member of the Orange Order once, who disliked Roman Catholic statues and obsession with Mary, but I was not overly convinced that he had embraced the Son. On that great and terrible day when we stand before Christ, rejecting idolatry will not be enough. In 2 Kings 9, God raised up Jehu, King of Israel, to punish the wicked house of Ahab, whose line he succeeded. Yet of the man's own spiritual life, we see next to nothing. In fact, in 10:31, we read of him ignoring God's word and law. He destroyed Baal worship and an evil dynasty, but he himself had little affection for the one true God.
I know many who reject false religions but do not themselves bow the knee to the King.