The World's Imbalance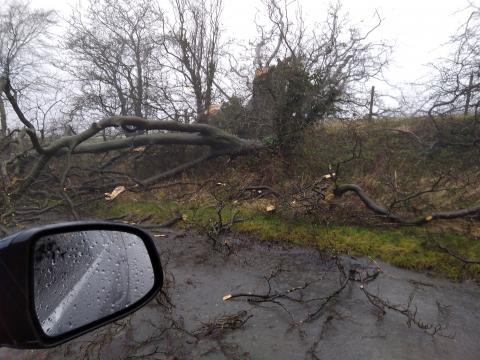 Another flooded Sunday: our congregation was halved and those who made it passed fallen trees, deep pools of rainwater and debris from fields and woods. The floods in the field were so deep and large, the wind blew waves on them big enough to match the sea. Before long, this storm will be forgotten, to be replaced in our minds by others. As I drove to church, holding my breath as I went through the great puddles covering the road and praying for deliverance, it struck me that this fallen world has essentially become unbalanced. Let me explain.
My sister lives on a farm in upstate New South Wales, Australia. They've had no rain for years and the cattle are gaunt for want of grass. Here, in contrast, we have so much water, the drains have overflowed and the rivers burst their banks. One place has too much, and other too little: imbalance. 
The northern and southern-most areas of the planet are too cold to inhabit; in the tropics, some places have so much heat that life withers. Imbalance
In Britain and America, we have an obesity problem; people have eaten so much, their health suffers and their movement is restricted. Elsewhere, there's not enough food to go around; famines and droughts leave humans too thin to live. Some die of too much, others of too little. Imbalance.
We were given an inbuilt desire to procreate by the Creator. This has become warped and unstable, so that this desire is sometimes violently expressed by preying on others with no reciprocating wish. At the same time, others' coldness prevents even friendship and companionship. Imbalance.
When God created the earth, human society and the human heart, each was characterised by a beautiful equilibrium. Like Goldilocks' favourite porridge and bed, it was neither too hot nor cold, neither too hard nor too soft. We humans were perfectly made, yet Adam's fall distorted everything. Excess and want soon dominated every aspect of life, from the physical world to our own emotions and desires. Such theological reflection offers little comfort to those with flooded homes ore damaged roofs. But it does urge us to reflect on Christ's return, after which the earth's harmony and concord will be restored. 
"The wolf also shall dwell with the lamb,
The leopard shall lie down with the young goat,
The calf and the young lion and the fatling together;
And a little child shall lead them.
The cow and the bear shall graze;
Their young ones shall lie down together;
And the lion shall eat straw like the ox.
The nursing child shall play by the cobra's hole,
And the weaned child shall put his hand in the viper's den.
They shall not hurt nor destroy in all My holy mountain,
For the earth shall be full of the knowledge of the Lord
As the waters cover the sea.
 "And in that day there shall be a Root of Jesse,
Who shall stand as a banner to the people;
For the Gentiles shall seek Him,
And His resting place shall be glorious."
Isaiah 11:6-10