Pinhaw: Big Pains and Little Pains
A few people have asked me how my leg is doing, having previously blogged about my ridiculous fall off a dry-stone wall and ensuing discomfort. Well on Wednesday of last week, I engaged in a seven-hour walk from my home to Pinhaw, the big hill looming over Earby. It isn't massive at just under 1300 feet, but it commands impressive views. We walked down the other side into Lothersdale and then back up again. The scenery was spectacular, with one side of the hill in Yorkshire, the other in Lancashire. We lunched in the middle of a Bronze Age burial mound and had a splendid day's hike. So for seven hours and 15-16 miles of walk, my leg gave me no bother, save the odd twinge when I misbalanced or set my foot on particularly uneven ground.
Yet it hurts to walk upstairs.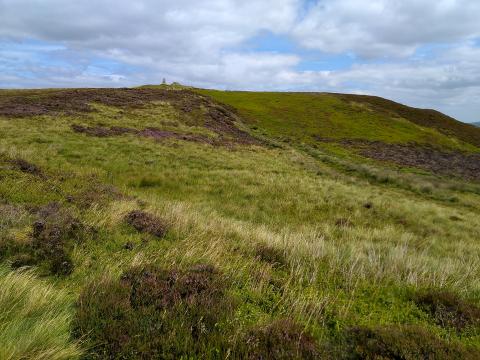 So in our spiritual lives. With the big demands, we comply quite cheerfully. Should armed men enter our chapel, offering instant death to any refusing to renounce faith in Christ, I think there would be few left standing. Yet of the little things we are asked to do, we prove rather more reticent. The Lord Jesus tells us to love our enemies, forgive grievances, bear with one another, give thanks for everything, trust Him without worrying. How casually do we discard and bypass such commands. The Lord asks few of us to die for Him, but all of us to live for Him.
Has the LORD as great delight in burnt offerings and sacrifices, as in obeying the voice of the LORD? Behold, to obey is better than sacrifice, and to heed than the fat of rams. 1 Sam. 15:22