Winterburn Chapel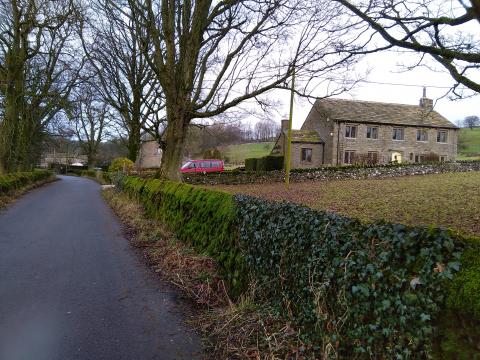 I called at Winterburn last week. This is a village, nay hamlet, betwixt Gargrave and Grassington. Pretty it was, and quiet. I walked along the lane by the beck. On my old OS there was a little cross there, indicating the site of a chapel. Sure enough, 'Chapel House' was on the sign on the gate, but it looked more like a manse than a place of worship on account of its many windows and central doorway. As it happens, it was indeed the chapel, orginally belonging to the Presbyterians. Although there had been a medieval chapel on the road towards Eshton opposite St Helen's well, it had long since disappeared. In 1703, Thomas Whalley decided "to build a house for God", having hosted a house church from 1694. The trust deed stipulated:
"the minister [was] to pray and preach God's word, administer the Sacraments of the New Testament and perform all offices and duties belonging to that sacred function so as every such Minister etc. be orthodox and sound in the faith of the Lord Jesus Christ and such as hold and profess the Doctrinal Articles of the Church of England."
Notice that Anglican theology was not disputed, but rather its structure and practices (ie employment of bishops and reliance upon the Book of Common Prayer). One of the chapel's trustees was Sir John Middleton, the grandson-in-law of Major General John Lambert, squire of Calton and Oliver Cromwell's right-hand man. The Commonwealth was long gone, but its spirit endured. The Kirkby Malahamdale Local History Group's website reports
Mr. Robert Hesketh, the minister in 1720, was summoned to appear before the Court "for suffering the doors of the meeting house to be shut at the time of their meeting.. the said Robert Hesketh being the teacher of the said meeting".
Does this mean he tried to prevent certain persons' entry, or refused to let others leave? Does it mean he didn't bother to open the chapel up for worship on the appointed day and hour? Here is a young church, well endowed, yet not spared the problems of an indolent or apparently pernicious church minister. Whatever its early problems, it is now a comfortable home. I wish the present occupants a pleasant life, yet I was a little sad that where once sounded forth the gospel of grace, is now silent. I was even sadder to hear of disputes among that early congregation in its first few decades of existence.
There, but for the grace of God, go we.